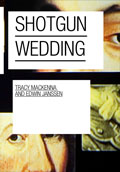 view sample pages
purchase this title
Price: $18

PROJECT 5.99
TITLE: Shotgun Wedding
AUTHORS: Emilie ES Gordenker, James Holloway, Craig Richardson & Christopher A Whatley
FORMAT: Hardcase, perfectbound, 230x160mm
PAGES: 68 (color images throughout)
DESIGN: Stout/Kramer, Rotterdam, the Netherlands
RELEASE DATE: October 2007
ISBN: 978 0 9546156 5 9


This publication explores the social, political and cultural background to Tracy Mackenna and Edwin Janssen's video installation Shotgun Wedding.


Shotgun Wedding engages the various conflicts that run through the history of Scotland and Britain, by re-presenting visual material relevant to the Union of 1707. The exhibition of this work at The Scottish National Portrait Gallery correlated with the tricentennial of the signing of the Treaty of Union that joined Scotland and England, and was the year that the Scottish people elected for the first time a Nationalist as their First Minister.


The publication is comprised of a series of images of the installation and texts that explore the specific background to the work. Craig Richardson's essay discusses the artists' work in relation to contemporary artistic & curatorial practices at the time of this anniversary of the Union; Christopher Whatley's contribution considers the political and social climate which gave rise to the Union in 1707; Emilie Gordenker's essay focuses upon the role of costume in providing social context within portraiture of the period; and James Holloway relates the work of the portrait painter William Aikman (1682-1731) to the political and cultural setting of the Union.