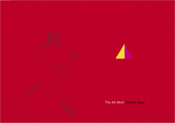 view pages
purchase this title
Price: $20

PROJECT 2.33
TITLE: Charles Avery: The Art Atom
FORMAT: Softcover, perfect bound, 210x297mm
PAGES: 56 full colour
DESIGN: Paul Cleary, with Charles Avery
RELEASE DATE: October 2003
ISBN: 0-9546156-0-3

CONTRIBUTORS:
Tom Morton, Regarding the Art Atom
Matthew Kneale, The Chief Clerks Story
Brian Dillon, A Singular Object

This book is composed of a suite of 16 drawings by Charles Avery, presented as full-page images, and selected details from the drawings. The book also includes individual text responses from Brian Dillon, Matthew Kneale and Tom Morton.

The images depict a cast of imaginary people who live in a world that upholds the rules of curvilinear two-dimensionality, in which Euclidean geometry is sacrilege. The subsequent discovery of the 'art-atom,' a tetrahedron (the simplest Euclidean solid), provokes unease in the elders of the community who order its concealment from society. Upon learning of this attempt to hide the truth, the young woman who initially discovered the atom attempts to retrieve it and reveal it to the world. However as she grasps for the 'coffin' containing the atom intended for burial she is shot by an elder, the atom slipping from her hands. As the woman falls to the earth in the final moments of her incarnation, caught between life and death, the atom simultaneously hits the ground, and splits into fifteen smaller units of the same form. Who knows whether or not she was conscious long enough to see that the 'truth' she sought to expose was not the truth she thought it was.

In response to these drawings three authors — Matthew Kneale, Tom Morton and Brian Dillon — were invited to respond with their own narrative interpretations. These interpretive texts add new 'truths' to Avery's allegorical tale, and the book provides an extension to Avery's investigation of relative and absolute truth.


Charles Avery was born in Oban Scotland in 1973. Avery now lives and works in London. Since 1998 he has exhibited widely, both in Britain and abroad. In 2003, while Avery was resident in Rome, he was one of four artists selected to represent young Italian art in the Padiglione di Venezia at the Venice Biennale. Charles Avery is represented by Galleria Sonia Rosso, Turin; Galleria s.a.l.e.s, Rome; and the Doggerfisher gallery in Edinburgh.