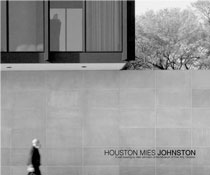 view sample pages
purchase this title
Price: $12

PROJECT 1.66

EXHIBITION
TITLE: Hume's Evidence
The Museum of Fine Arts Houston, Caroline Law Building. (March-April, 2002)
view exhibition images

PUBLICATION
TITLE: HOUSTON MIES JOHNSTON
AUTHORS: Alan Johnston, Joseph Masheck and Gavin Morrison
FORMAT: Softcover, perfectbound, 210x175mm
PAGES: 44 (10 image pages)
DESIGN: Scott Masser
RELEASE DATE: November 2007
ISBN: 978 0 9546156 2 8


Alan Johnston is an artist who makes discrete wall drawings using a rhythmical pencil marking to describe a near invisible perimeter or frame on the wall. This project began with a commissioned wall drawing — in association with the Core Program — upon an interior wall of the Mies van der Rohe designed extension of the Museum of Fine Arts, Houston in 2002.

The associated publication, HOUSTON MIES JOHNSTON, provides a brief conceptual survey of the drawing through texts by the artist; the art & architecture historian, Joseph Masheck; and the project curator, Gavin Morrison. The book incorporates many images of the extension shortly after its completion in 1974 by the architectural photography firm Hedrich-Blessing and is illustrated throughout with detailed images of the drawing and its installation in this iconic building.